Holly Springs Outlaw Drag Radial Review ProTorque, Fiscus, Jackson, Kolivas
Keith Bruss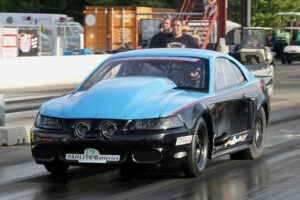 Kevin Fiscus with the first TURBO Drag Radial cars 4.27 at 190 mph ( unfortunately Kenny Hubbard a blower car with another brand of converter actually took the record this weekend L )
The first official 4.2X run was a 4.283 at 179.95 MPH and was then backed up with a shocking 4.267 at 179.50 later that night. After that performance Friday night Hubbard went on to capture the Drag Radial elapsed time record, running a 4.275 at 179.64 in the final qualifying session as the No. 1 qualifier in Patriot Performance True 10.5. Not to be outdone, Kevin Fiscus put the Hurricane Performance twin turbo Mustang on kill, running a 4.278 at 187.27 during the test session Friday, making his run the quickest and fastest for a legal Outlaw Drag Radial car.
Steve Jackson Runner up against John Kolivas Win at Holly Springs
Steve Jackson Is Quoted "I want to thank some folks for their help this weekend. We broke our rear end on the first run and Kenny Hubbard immediately brought their spare center section over and let us borrow it. He wouldnt take a dime for rental. Also thanks to Dennis Bailey. He brought us a drum of Nitro to the track sunday morning because we ran out.
My crew worked their asses off this weekend. Kolivas was a gentleman before and after kicking my ass in the final. The crew at Holly springs worked their butts off keeping the track on kill. I hate it that we werent ready to take advantage of such an awesome track. We showed up with our dirt road setup and it took a whole day to get the car turned around and ready to haul ass. Next time we come to Holly Springs, we will have our big boy pants on when we roll through the gate.
Congrats to Hubbard and Fiscus on an awesome back and forth show of 4.20 passes. You guys deserve everything that you get. Both are nice folks and pilot bad ass hotrods".