Hance Happy with No. 1 Outlaw Pro Mod Start Shakedown at Summit
Keith Bruss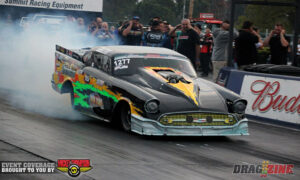 Driving a '57 Pro Mod he called "almost old enough to vote," David Hance arrived ready to take on Summit Motorsports Park this weekend in the inaugural Shakedown at The Summit.
Hance, more than anyone else on the grounds, has a personal history intertwined with the event. He was its founder in 2003 and promoted it as the Shakedown at E-Town until last year at historic Old Bridge Township Raceway Park in Englishtown, NJ.
"It was interesting and it was fun for 10 years at Englishtown. Yes, it got tense at times, but we had a lot of great help. There were a lot of great people helping us, so many good people. Yes, I bore the financial responsibilities, but the workload was spread out and that's why the race was so good for so long over there," Hance said. "That said, it is a lot more relaxing this year."
Well, as relaxing as it can be covering a quarter mile in 5.870 seconds at 251.25 mph, as Hance did in Friday's lone qualifying session to start number one in the 32-car Outlaw Pro Mod field.Following him on the list were Troy Coughlin at 5.892 and a class-leading 252.61 mph, Jose Gonzalez with a 5.929 at 241.76 in his only pass during qualifying Saturday night, and Canadian Eric Latino, who closed out the five-second runs with a 5.936 at 243.55 mph.
"We just went out there, took a look at the track, the track looked good, so we put our 'A' tune-up in it. We just put something in it that we thought would fly–and it did," Hance said of his Friday-night heroics. "It probably should've went 5.83 or .84, but we broke a lifter about four seconds in, right about the eighth mile and she lay over on us. But I'm happy; other than that it was a really good run."
After multiple, lengthy rain delays the entire Shakedown field managed only one more round of qualifying for all eight classes and when it came to Hance's turn in Outlaw Pro Mod his '57 Chevy hiked the front wheels sky high when it reached half track and he had to abort the pass.
"We mounted up a pair of outlaw 98-millimeter Precision Turbos and went with a setting we'd never tried before and when those things snapped to life, it just overpowered the car," Hance described. "It was almost the very first Pro Mod blowover. We were going straight down the groove, but it just started rising and rising and when I couldn't see the scoreboard anymore through the windshield there was no point in continuing."
Hance said he's enjoying the number-one status in Pro Mod at the race he created after previously nailing down the top spot in Outlaw Radial at one Shakedown event and number two in Outlaw 10.5 at another.
"This is great, but it's a tribute to the crew and the guys I've got around me," Hance stated. "They know how to make a car work. My job is easy; all I have to do is let go of the button and hold on and the car does everything else."