Wayde Moody National NHRDA Pro Stock Series Championship
Keith Bruss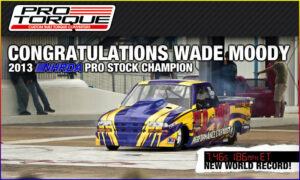 Thank you everyone!!
After a very long season, with many ups and downs, our team was able to Dominate at the last event of the year with great success!! New World NHRDA ET record 7.46 @ 186!! on Friday. New National NHRDA Pro Stock Series Championship, on Saturday; New World NHRDA Pro Stock Championship clinched on Sunday!! Our Truck was within 7 hundredths of a second all weekend!! and we ran in the 7's almost every pass this year!!
We are very excited!! Great Job NHRDA!!
Gotta give it up to the ones who helped make it happen, couldn't have done it without the following people.
First and foremost, The Lord Jesus Christ, My Wife and son, My crew chief, Chris crafts, Matt, Cory, Johnboy, Joe from ProTorque
All my Sponsors
Flo Pro Performance Exhaust, Industrial injection, BorgWarner/Airwerks, Fuelab fuel pumps, M/T Tires, Santhuff, Pure power filters, Clevite, Victor Reinz, Nitrous express, xs power, R&R,NGM Diesel race engines Thank you so much everyone, we make a great team!!